Recently our native advertising partner StackAdapt popped into our Salt Lake City office to discuss the latest and greatest features their team is working on. For those of you who are not familiar StackAdapt is the premier native advertising platform based in Toronto, Canada, and no big deal they've been featured in Forbes. Their product offering is led by native articles with video and display products launched in the past year. While we can't discuss everything Michelle and Eli covered during out lunch and learn. We can say StackAdapt has a lot of great features launching this coming quarter and year.
As advertisers look for alternate channels to Facebook and Google we predict a continued shift to native advertising. Native's metrics are stacking up, if not exceeding those of other channels and can track time spent on site (when using StackAdapt) no matter if you are using native articles, video or display.
Is native advertising included in your brand's campaign spend? If not email us at content@pennapowers.com and we can peek at where your audience is online and where you should be.
in category
Blog
tags Advertising, Digital, digital marketing, Social Media, twitter
and
0 comments
. | Written by
Nicholas Giustino
All the attention has been on Facebook and fake news, yet everyone in the room is missing another issue being Twitter's massive bot problem. Estimates are circulating that bots are over 15 percent of active users, something Twitter disputes and pegs at about 5 percent. Whether it is more than 15 percent or less than 5, the point is Twitter's bot problem is out of control and they need to do something about it.
Recently we analyzed a Twitter campaign that utilized the website traffic objective to see how active bots are on Twitter. Within 24 hours, the ads delivered 1,882 clicks and 13.76 percent Click Through Rate (CTR) which seemed very odd to our team. Deep down we all want a 13 percent CTR but immediately knew something was wrong. After further investigating, we immediately saw that majority of impressions served and clicks came from Android devices which raised a huge red flag.
After flagging Android devices as an issue, we considered the languages our ads were delivered. Again, we saw another red flag with a large share of our ads delivering to people who spoke Japanese, Portuguese and Turkish–to name a few.  
Our analysis concluded the rush of clicks over 24 hours could be explained in no other term except for bot fraud. Now this was a very small, target campaign in the U.S. Bots are a worldwide problem for advertisers and governments when used in an inauthentic manner.
You may be asking yourself what can my brand do? Is my agency aware of Twitter's bot problem? Right away you can look at engagements on your tweets. Look at the profiles engaging with your content. Click on profiles to see if they have real photos and information. Bot profiles will have the standard egg profile photo or they won't match the target audience you were seeking. If you work with an agency probe them, asking if they are aware of Twitter bots and what they're doing to combat them.
Staying ahead of ad fraud will continue to be an ongoing battle. Something we hope the major social media channels take very seriously and will develop sophisticated tools to help detect. If you have additional questions regarding Twitter's bot problem or online ad fraud, please email us at content@pennapowers.com
in category
Blog
tags Advertising, digital marketing, Marketing, Media Planning & Placement, Social Media, utah advertising
and
0 comments
. | Written by
Elyse Freeman
We recently attended the 2018 Silicon Slope Tech Summit to learn about the state of tech in Utah. The conference covered everything from gender equality to the entrepreneurial spirit. Here are a few of our favorite takeaways from the conference:
Relevance is key
Facebook's Vice President of Global Communications Caryn Marooney stressed the importance of relevance in content marketing. If you can't get relevance right, it doesn't matter who you are or what you can offer. If you can get relevance dialed in, that's the real ticket.
Don't mistake motion for progress
Another highlight from Marooney's talk centered on progress. She paraphrased Bill Gates' famous quote: "People overestimate what they can do in a year and underestimate what they can do in ten. You need to put a building block on it every day." However, Marooney stressed the importance of staying simple; be intentional in what you create. "The longer you are in business and the more successful you are, the harder people will pull at you to become more complicated," Marooney said.
Your employees deserve transparency
Allbirds CEO attributed the success of his company to the employees. He stressed giving employees access to the greater vision in order for them to make better decisions. If your employees are truly invested in your vision, they are being driven by the right reasons. As soon as money becomes the motivating factor, you're going to be paying a lot and the employees are going to jump ship.
Utah is the place to be
Although shadowed by Silicon Valley, the Silicon Slopes is operating at optimal density right now. Because of its competitive tech culture, Utah's talent pool is creating something magical in the state. Multiple Utah-based CEOs agree that the state and its quality of life are the driving factors for success. "Almost everyone I know who comes here says 'I'll give it a little bit of time.' Utah is a wonderful place that wins you over," said Experticity CEO Tom Stockham.
We loved attending the 2018 Silicon Slope Tech Summit and look forward to the presenters they bring next year.
in category
Blog
tags Advertising, facebook, Marketing, Social Media
and
1 comment
. | Written by
Nicholas Giustino
Facebook recently announced major changes to how your newsfeed will look soon. We all know the days have passed where brands organically pushed out their content to waves of engagement, reaching a large audience. With this new algorithm change, Facebook is taking it one step further by showing you less business and media content, and more personal content from friends and family. Overall, the social media giant expects people to spend less time on the channel, meaning less time on brand content.
You should be asking yourself not if this will affect my brand, but how will it affect it moving forward. Now more than ever brands will have to fight for attention and space on newsfeeds.
Big Changes:
Time spent on site will decrease
Less space for brand posts will lead to less reach, engagements and referrals to one's website. If your brand relies on Facebook to deliver a large portion of its blog and website traffic, you'll want to adjust your strategy on the platform. Consider adding new channels, such as email marketing or a paid platform, in the form of native content placements.
Engagements will decline, becoming more valuable long-term
As people spend less time on Facebook, engagements will naturally decline. Short term this may be bad, but long term the value of an engagement may increase as people spend quality time engaging with content vs. scrolling and liking mindlessly.
Facebook will look at your engagements more closely
You may have already noticed on your personal newsfeed that a friend's post with a healthy conversation is staying at the top of your newsfeed longer than it used to. This is not by accident. Facebook is now looking more closely at engagements beyond likes, shares and comments, examining if a brands content is leading to dialogue.
CPMs (Cost Per 1,000 impressions) will increase
Now that you know Facebook is making more room for friends' and family content, that means more brands will need to utilize paid placements on Facebook more than ever if they want to amplify their content. As demand increases and supply decreases, an increase in CPMs is expected, continuing a trend we've seen over the past few quarters.
What your brand can do moving forward:
Better content
Sure, it's easy to say you'll need to create better content for your brand, but it's true. Moving forward you'll need a well-planned content strategy that aligns your brand by delivering relevant and interesting content to the target audience.
Live organic videos will fare better vs. pre-recorded organic videos
Diversify
Consider adding new channels to your content strategy, such as email marketing or a paid platform like native content placements. Brands also should evaluate how they use existing channels, such as paid search which could be tweaked to drive blog or content views on a website.
Facebook ads
If you've sworn off paid ads or use them sporadically, stand back and reevaluate how you use Facebook products. Brands and marketers have for years treated Facebook as a pay-to-play channel. 2018 will be the year where brands can no longer ignore using Facebook ads to amplify their content. An "Always-On" strategy—whether it's $50 or $5,000 per month—used wisely can still increase brand content reach and desired actions.
The biggest takeaway from this change is that brands no longer have the upper hand they once did on Facebook. It has been a slow decline, but the most recent change will require brands to rethink and shift their strategies. In 2018, influencers will be crowned the kings/queens of content because at the end of the day they are people first, brand second and these algorithm changes will favor them.
in category
Blog
tags best tv of 2017, Digital Media, Penna Powers Favorites, streaming video, Television, tv
and
0 comments
. | Written by
Marc Stryker
We're still in the age of Peak TV, where an endless stream of original programming is coming at us in all directions. And that's before tech behemoths Apple and Facebook have even dipped more than their toes in the TV waters. As it becomes a constant struggle to stay on top of it all, you have to wonder when, not if, the TV bubble will burst. One day Netflix will run out of subscriber money and they'll need to turn to… gasp… advertisers for another revenue stream.
We're all watching so many different TV shows, it's really hard to build a consensus list of top picks. But we did it anyway. You're welcome, blog readers:
This is Us – NBC's tearjerker drama continued to impress us, as did actor Sterling K. Brown at this year's Emmy Awards. He deserved his award (thankfully beating out Kevin Spacey pre-scandal), as he acted the snot out of his half season-long arc with his dying father. People, if you have any humanity left in you, sit down and watch this show.
Mindhunter – Okay, from here on out, it gets a little less warm-hearted as we descend into serial killer psychology with the David Fincher produced (and directed half of the episodes) Mindhunter. Come watch Jonathan Groff (acted and sang the part of evil Kristoff in Frozen) and Holt McCallany do the dirty serial killer profiling work no one in the FBI could imagine doing. Based somewhat loosely on real-life events. Never fun to watch, but always compelling.
Rick & Morty – We're often told that young males aren't watching TV anymore. Rick & Morty is 100% proof that they still are. And it's usually with this show and the rest of Adult Swim (Cartoon Network's after hours block). The show is absolute bonkers, which is understandable when you find out that it's from the demented mind of Dan Harmon (Community and HarmonQuest). And it also generated a McDonalds scandal this year, when fans demanded their Mulan-inspired Szechuan sauce and the restaurant somewhat obliged them.
Game of Thrones – Season 6 was polarizing for many fans, as characters seemed to teleport from place to place with ease and characters did weird and stupid things. Now that GOT writers have surpassed the plot lines of author George R. R. Martin's own books, have they lost the Westeros vibe? Who knows, but it still pleased enough of the staff to get it on our list. Did you check out that fiery loot train battle? And an ice dragon? And aunt/nephew dangerous liaisons?
GLOW – Sure, it's ostensibly about the creation of the Gorgeous Ladies of Wrestling TV show back in the 80's, but that hook is kind of a Trojan Horse for a lot of other ideas about ambition, friendship, women's rights and identity. It could be seen as an older sister 80's nostalgia companion to Netflix's other hit, Stranger Things.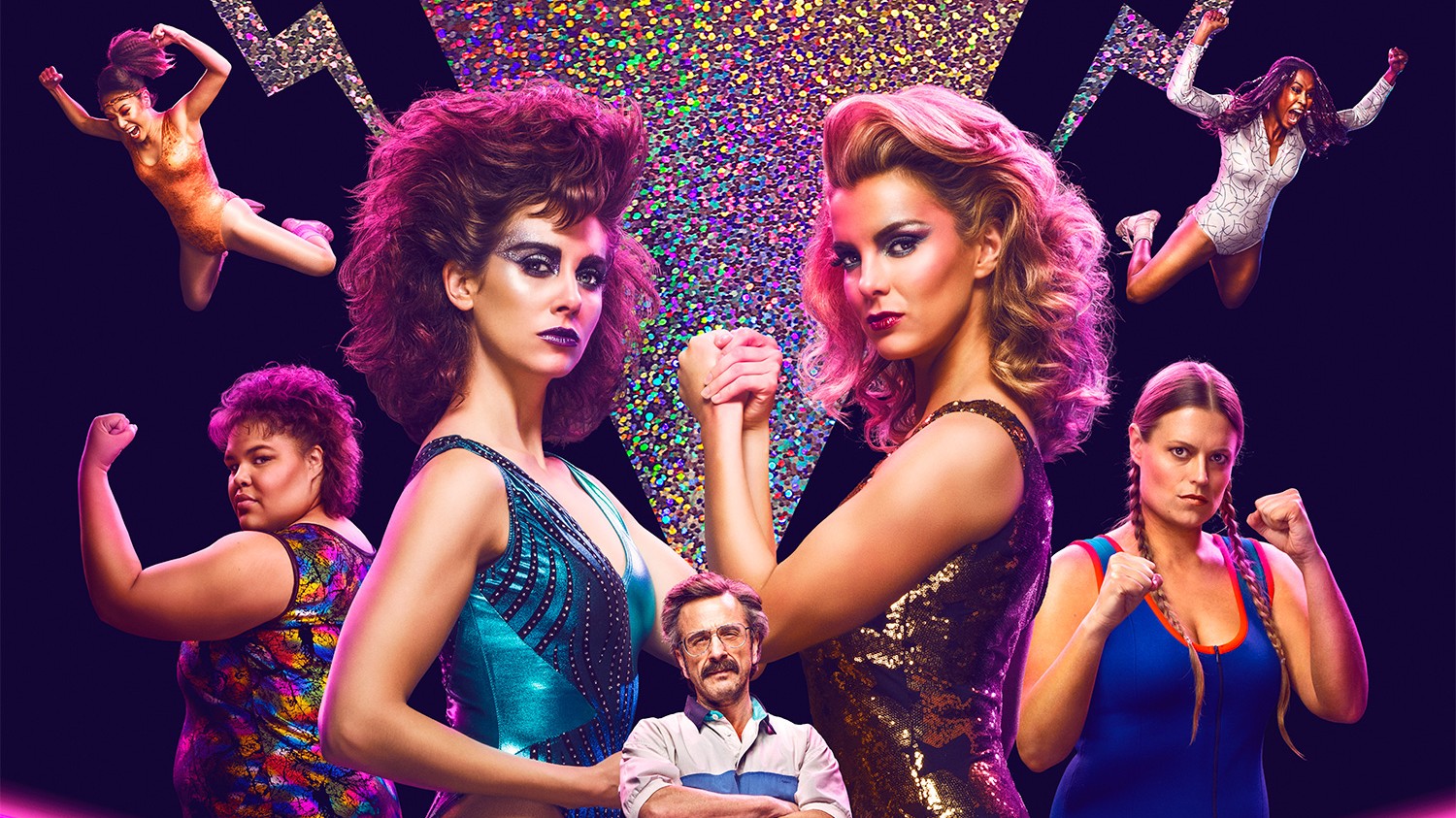 The Handmaid's Tale – The first streaming show to win a best drama Emmy and it happened on Hulu! Netflix was certainly flogging itself after the news and later cursing its collaboration with the disgraced Kevin Spacey and Louis C.K. Based on Margaret Atwood's acclaimed 1985 novel, the show achieved major cultural relevance in the wake of the women's march against President Trump. And then that Harvey Weinstein thing happened…
The Good Place – With the track record producer Michael Shur has (The Office, Parks & Recreation, Brooklyn Nine-Nine), it's no surprise that The Good Place is a great show. We wondered where they would take it after the big twist at the end of Season One, but Season Two is even better. Time for another Jacksonville dance battle.
Legion – Now that Disney purchased Fox Television, (Legion debuted on FX), this 8-episode series superhero/mental illness drama might get the Marvel overhaul, but that would be a mistake. Creator Noah Hawley scored with his adapation of Fargo from film to television and he's doing pretty well with this one. But it was weird and challenging enough to keep most people away with its non-linear storytelling and Audrey Plaza weirdness. Not our creative department though.
Master of None – What's with all these comedians trying to be Woody Allen circa 1979? Well, if they're done in the style that Aziz Ansari brought to his wonderful Master of None, we'll take it. The show has its pretentious moments, but it's also very open and honest and welcoming, giving voice to people who don't normally get character depth on television. Tom Haverford, you've come along way since your days at Entertainment 720.
Stranger Things – The overwhelming consensus as the number one show of 2017, Stranger Things 2 was equally binge-worthy as the first season. More 80's pop culture references, more Demogorgons and more government secrets to unravel – the show probably needed more for Eleven to do than fall in with a bunch of unconvincing X-Men punks, but it still delivered the goods we craved.
Honorable Mentions: The Leftovers, Godless, Insecure, Chicago Med, Bloodline, Marco Polo, Preacher, The Ranch, The Crown, Trial & Error, The Long Road Home, Manhunt: Unabomber, Big Little Lies, 13 Reasons Why, Desus & Mero
Did we miss any of your favorite TV shows? Let us hear it in the comments.
in category
Blog
tags best films 2017, best movies 2017, Penna Powers Favorites
and
0 comments
. | Written by
Marc Stryker
Every year we ask the Penna Powers staff to list the top movies they saw. These are the best movies of 2017 that moved, entertained, challenged or inspired us.
Wonder Woman – You'd be forgiven if you had seen Batman V Superman and seriously worried about the viability of a stand-alone Wonder Woman movie. It had all the makings of a train wreck. While the opening Themyscira scenes had some cringe-worthy CW-level posturing and acting, we quickly got pulled into the story thanks to the incredible charisma of star Gal Gadot and Patty Jenkins's assured direction. Wonder Woman, we believe in you.
The Big Sick – You may know Kumail Nanjiani as Dinesh from Silicon Valley fame, but here he nicely dials it back as a struggling stand-up comic who falls back in love with his ex-girlfriend while she's in a coma. Based on true events and written with his now-wife Emily Gordon, we really dug the story and performances, especially Holly Hunter and Ray Romano as Emily's parents.
John Wick 2 – After Keanu Reeves's titular character avenged the death of his dearly departed dog, he thought he could just lead a quiet civilian life. Of course he's mistaken and soon has to kill lots of bad guys in hyper-stylized and brutal ways.
Thor: Ragnarok – After the dreadful Thor:The Dark World, something had to be done to give life to the God of Thunder. Enter Taika Waititi, director of the fantastic faux vampire documentary What We Do in the Shadows and the quirky brilliant Hunt for the Wilderpeople. Pretty much directing a Thor/Hulk buddy movie, he brings a desperately needed dose of humor and buoyancy before the Marvel Cinematic Universe's dour slide into the Infinity Wars.
Dunkirk – Some movies must be seen in a movie theater – Dunkirk is one of those movies. Director Christopher Nolan out-Nolaned himself once again by delivering a war movie that defied all of the usual conventions associated with the genre, all in under two hours. You're provided absolutely no back story to any of these characters. There's no helpful historical context (although a title card provides some), no explanation of what a "mole" means or preparation for the three timelines depicted. You're dropped into it just like the film's non-descript soldiers. It's basically a horror movie masquerading as a war survival tale. And it's an amazing cinematic experience.
Get Out – Call it a horror film, comedy, social parable or whatever else you want, Get Out managed to capture the zeitgeist of racial anxieties in a Trump-presided America. Comedian Jordan Peele (of Key and Peele fame), nails his directorial debut with a tale that will literally get under your skin. If you went to the theater to see M. Night Shyamalan's creepy Split, you probably saw the Get Out trailer and thought, "What the hell?". No, not hell, just the Sunken Place.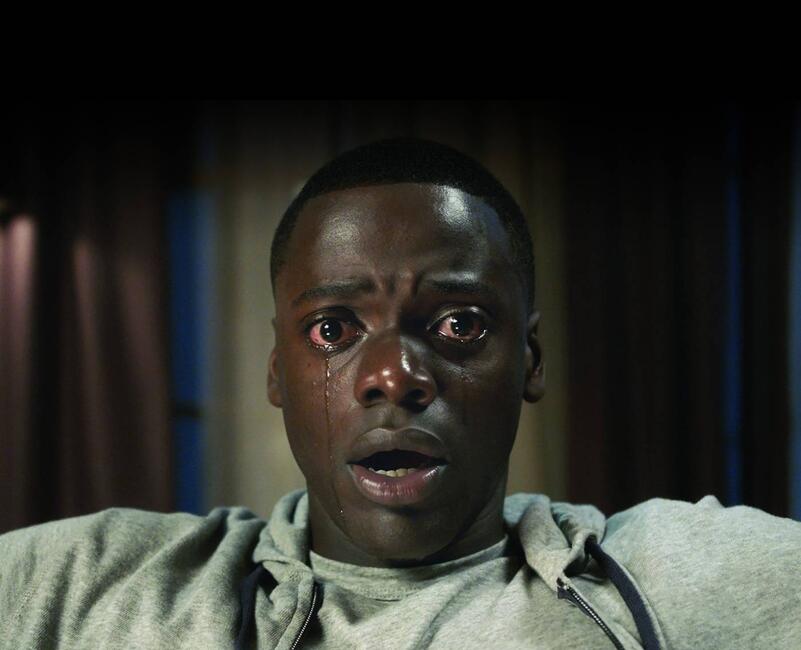 Logan – Marvel got serious with Hugh Jackman's last performance as the iconic Wolverine. It pretty much amounts to a graphically violent 2017 comic-book version of the western Shane-meets-Unforgiven. It has some killer moments, like when a dementia-afflicted Professor X nearly destroys the world, or at least Las Vegas.
Blade Runner 2049 – Not everyone's cup of tea, but neither was the original. Why anyone gave acclaimed director Denis Villaneuve (Sicario, Arrival, Prisoners) this much money to direct a 3-hour sci-fi art film is beyond movie studio logic. But hey, we dug the outcome. If you loved the first film (before it became a cult classic that you were obligated to love), then you probably loved this.
It – Who would've thought a Stephen King-adapted September movie release would become the highest-grossing horror movie of all time? Riding Stephen King's coat tails doesn't always result in box office success (for every Shawshank Redemption, there's a Dreamcatcher), but the marketing team deserves an Oscar for properly seeding the sinister trailer that suddenly got everyone excited about killer clowns. We can now properly bury the horrible TV movie adaptation starring Tim Curry.
You might ask yourself, "That's all very well and good, Penna Powers, but where is The Last Jedi?" Great question! Well, it's not because it went unseen at press time. It's just that there are too many fan boys here who have religiously studied the Jedi scrolls and have declared The Last Jedi a blasphemous mess. Some of us vehemently disagree, but not enough to get the movie on the list. We're terribly sorry – all apologies to director Rian Johnson for having the chutzpah to try something different.
Honorable Mentions: Guardians of the Galaxy Vol. 2, Baby Driver, Call Me By Your Name, Alien: Covenant, A Dog's Purpose, Wonder, Wind River, Logan Lucky, Three Billboards Outside Ebbing, Missouri, The Last Jedi, The Disaster Artist, Girls Trip
So what made your top 10 movie list this year? Please please share in the comments! And check out our past movie lists for 2016, 2015, 2014, 2013, 2012 and 2011.
in category
Blog
tags Awards, Penna Powers Life, PPBH Favorites, PPBH Life, Salt Lake City Jobs, utah advertising
and
0 comments
. | Written by
Elyse Freeman
We're honored to win Utah Business' Best Companies to Work for Award once again this year. This marks the sixth time we've won this award and the fourth year in a row. While we could list out the million reasons why working at Penna Powers is incredible, it's easier to let our employees speak for themselves.
"I love the laid-back atmosphere and the fun, yet professional people I work with." – Account Manager Melinda Macfarlane
"I get a great sense of fulfillment working at Penna Powers because the clients we work with are dedicated to making a difference in the world. It's amazing to know that the work we do helps make our communities a better place." – Associate Project Manager Aubrey Souvall
"Penna Powers is the perfect collaboration of great minds coming together to create meaningful work. The fun, inviting environment makes Penna Powers the best place to work!" – Receptionist Sabrina Wilhite
"The people. All companies are the same, but the people make Penna Powers stand out. The arcade games, the pool table, great bosses…" – Senior Content Strategist Nick Giustino
"I love the flexibility this company has with its employees." – Videographer Jordan Whitney
"The people are my family, the things that happen behind the scenes that clients don't see (charades, practical jokes, parties, videos, etc.). We do such great work." – VP of Finance & Ops Traci Houghton
"I have experienced a great deal of autonomy working here. Autonomy requires vertical and horizontal trust and just like any productive relationship, trust is the foundation for success. For example, apart from any of my dedicated duties, if I have an interest in contributing on any particular project, all I need to do is express that desire and I am awarded the freedom to do so. This independence and freedom allows for growth and creativity, independent of bureaucracy or other entry barriers." – Media Planner Jennifer Beaudoin
"I love knowing that the work I do helps people live better lives." – Director of New Business Brent Wilhite
"I love the hoodies, staff meetings, that Nerf gun wars are normal and that we get to do great, strategic and creative work every single day." – VP of Account Planning & Management Stephanie Miller
"I like that no two people are the same here. You can be yourself and everyone is accepting of you for you! At the end of the day everyone is different and unique, but we all come together to create some really awesome work." – Content Coordinator Kelsey Hess
"I've yet to have a dull day working for Penna Powers. Various clients, new campaigns, creative tactics and great people keep things lively." – Digital Project Manager Collin Brian
"When I started working at Penna Powers, I was fascinated by the amount of employees who were celebrating their 10th or 20th anniversary. After working at Penna Powers for a few months, I realized why. Whether you're in an entry-level role or a vice president, you know that your voice and your work matter at Penna Powers. The partners ensure that work-life balance is a priority and facilitate activities for the company to grow together. On a Friday night, you'll find me on the soccer field with my coworkers because I genuinely love hanging out with them outside of work." – Content Specialist Elyse Freeman
"I love that Penna Powers employees take their careers seriously. They are not just in a job. I love that everyone at Penna Powers is really smart. I love that we are not micromanaged ever. We are expected to do our jobs like the true professionals we are. I love that the company will allow you to have flexible hours if you need to take care of something outside of work. I love that we celebrate every employee's 5, 10, 15, 20-year anniversary. I love that Penna Powers takes our family to Lagoon every summer. I love that the management keeps us informed and gives us a "State of the Agency" presentation once a year. I love that Penna Powers has such a fun, cool culture. I love the work that Penna Powers produces!" – VP of Project Management Chris Menges
"I like the overall vibe around the office and unlimited M&Ms." – Account Manager Bri Binnebose
"The partners are so good to us!" – Account Planning Director Wendy Hansen
"For me it's simple: the people and the work. Penna Powers is full of committed, smart, talented people doing work that truly matters to our communities and our future. Pretty rewarding to work at a place like that." – VP of Client Services Justin Smart
"I love working with awesome people, doing awesome things." – Senior Copywriter Bobby Brinton
"I love the change we make in the world, it may be on a small scale, but we are saving lives on Utah's roads." – Zero Fatalities Outreach Specialist and Associate Project Manager Kylie Christensen
"I laugh every single day. Maybe not all day, every day, but at least once a day I find myself with full on tears in my eyes and big belly laughter. Work can be busy, timelines can be tight, but I find joy and gratitude every single day in my role and I find the stressful days are few and far between because the people of this company make this place such a pleasure to be a part of." – Traffic Manager Alex Antonino
"I like the fact we never get bored. Every project is always something new. And, I've got damn good friends here." – Senior Project Manager Britni Brozo
"I love how accepting everyone is." – Associate Project Manager Alli Blake
"I love that it always feels like a positive environment, even when things may not be ideal. It's always a happy place for me, anyway." – Receptionist Michelle Adams
"I love Penna Powers because it fosters an atmosphere where the best idea can come from anybody." – VP of Channel & Content Management Marc Stryker
"I love how everyone will work together to get things done. It's a family work environment. Where everyone, no matter role, works to provide the best product for our clients." – Media Relations Specialist Allyse Christensen
"I love the emphasis on being one unified team despite our different projects and assignments." – Truck Smart Outreach Specialist Alec Curtis
"I love the parties and the solid work ethic. Plus, everyone is super inviting and outspoken. If someone has something to say, they'll say it!" – Zero Fatalities Outreach Specialist Aja Domingo
"Laughing is constant during staff meeting," – Content Specialist Julene Thompson
in category
Blog
tags Agency News, Dave Smith, Golden Spike Awards, Professional of the Year Award, PRSA
and
0 comments
. | Written by
Elyse Freeman
The PRSA Greater Salt Lake Chapter recently awarded Penna Powers' Managing Partner and President Dave Smith, APR with PRSA Professional of the Year.
As a native Utahn and graduate of Weber State University, Dave epitomizes the homegrown mentality of the Beehive State; he started as an intern with Penna Powers and has worked on numerous high-profile projects for nearly 25 years. Now as the Managing Partner and President of Penna Powers, he oversees the company's long-term direction and vision.
Throughout the industry, Dave is known for his strategic communication and his role as a trusted advisor to all clients. In fact, many campaigns led by Dave have won the highest public relations award in the nation—the PRSA Silver Anvil award. Dave's work in the Olympic Transportation "Know Before You Go" campaign garnered international recognition.
Dave devotes himself to his clients and currently is the principal advisor for some of UDOT's biggest projects, including I-15 CORE, Mountain View Corridor and the TravelWise program. With Dave on the team, clients can rest assured that their campaign is in very capable hands. He doesn't rest until he knows that a campaign will work and is being executed in a way that will yield solid results.
Outside of the office, Dave serves on the Salt Lake Chamber's Board of Governors, the United Way of Salt Lake's Leadership Circle and is a member of Weber State University's communications department advisory board.
With his free time—which is sparse—he keeps busy being a volunteer leader/advisor with the Boy Scouts of America. Additionally, he is a member of the Bountiful High School Community Council, a high school basketball referee and has coached little league soccer with his kids' teams for more than 15 years.
An outdoor enthusiast, Dave can be found in the mountains, valleys, rivers and lakes of the intermountain region frequently. He enjoys hiking, camping, running, hunting and fishing with family, friends and colleagues.
Congratulations Dave on this prestigious honor. Penna Powers flourishes under your tutelage every day.
in category
Blog
tags Advertising, Awards, penna powers, Public Involvement, Public Relations, Research, utah advertising, Zero Fatalities
and
0 comments
. | Written by
Elyse Freeman
Penna Powers took home some serious hardware at the 30th annual Golden Spike Awards Gala on Nov. 16. We earned six Golden Spike awards and one finalist award at the 2017 Golden Spikes in categories ranging from research for governments/non-profits to community relations.
Golden Spike Awards
Harmons Grocery Local Print Ads
Category: Print display advertising
Harmons Grocery has been operating in Utah since 1932. What started out as a farmstand has blossomed into a progressive chain of grocery stores committed to quality food, unsurpassed service and community wellbeing. Supporting local vendors has always been at the forefront of Harmons mission, in fact, Harmons has been an integral cog in helping many local businesses get started. Over 2,300 products sold in Harmons are local items. With this in mind, Harmons asked Penna Powers to develop print ads with an emphasis on local. The ads featuring local products and produce were placed in various local Utah publications reaching more than 250,000 in readers.
UCAIR & Penna Powers: Show Them UCAIR
Category: Community relations
UCAIR and Penna Powers have conducted fully-integrated educational campaigns for the past several winters, when Utah's air quality suffers most. Research in early 2016 showed that Utahns are concerned about air quality, but many believe air quality challenges are beyond their control. However, research participants activated around the issue when presented with the health impacts poor air can have on those they love. Building on this insight, UCAIR and Penna Powers created the "Kidult" campaign, inviting Utahns to "Show Them UCAIR" by changing behaviors to reduce emissions.
UDOT & Penna Powers: UDOT 1-15 Tech Corridor
Category: External audience videos
Utah County is growing rapidly, resulting in commute-time traffic jams. The Utah Department of Transportation planned to expand I-15, but funding wouldn't arrive until 2020. In 2017, the State Legislature approved a bond to accelerate construction.
A public awareness survey showed that only 24 percent of locals knew a project was coming. UDOT developed a video to educate stakeholders on the project and announce the accelerated timeline. The video link was emailed to government and business leaders and promoted on Facebook, Twitter and YouTube to area residents and commuters.
UDOT & Penna Powers: UDOT TravelWise
Category: Research for government/non-profits
In order to establish a baseline around the TravelWise Program, UDOT conducted a general public telephone survey of Wasatch Front residents through Lighthouse Research & Development, Inc. The research included a total of 810 interviews. It was the first time that research of this scale had been done on the TravelWise campaign. It substantiated our belief that the campaign is necessary, surprised us in the level of program awareness, and provided actionable insights that are currently being pursued by the team.
IDOT & Penna Powers: Iowa Zero Fatalities "Impaired Sports"
Category: Social media for government/non-profits
With 32 percent of all traffic fatalities caused by alcohol related crashes, Zero Fatalities Iowa identified a need to address impaired driving with residents. In an effort to reduce fatalities, Iowa Zero Fatalities implemented a social awareness campaign during NFL and NCAA sporting seasons targeting men ages 18-49. Event targeting reminded spectators to get a sober ride home after the game. The campaign successfully, reached 59.8 percent of the target audience and helped lift overall Zero Fatalities awareness by two percentage points.
UCAIR & Penna Powers: UCAIR Illustrated Inversion Education Video
Category: Photography and illustration
The Utah Clean Air Partnership (UCAIR) is a non-profit dedicated to clean air. UCAIR and Penna Powers have conducted fully-integrated educational campaigns for the past several winters, when Utah's air quality suffers most. Part of the challenge of getting Utahns to engage around air quality is overcoming their general low awareness that what they do does, in fact, make a difference in pollution levels. Many believe nothing can be done about Utah's poor winter air episodes due to the meteorology and geography of the local airshed. During the 2016-17 winter campaign, we produced an illustrated educational video to attack this issue head-on.
Gold Spike Finalist Award
UDOT & Penna Powers: Zero Fatalities
Category: Community relations
To reduce traffic-related deaths between Memorial and Labor Day, Zero Fatalities implemented a multifaceted campaign called the "100 Deadliest Days." As titled, the campaign focused on educating Utahns about (1) the 100 DD of summer when roadway deaths nearly double in Utah and (2) how to best prevent a traffic-related tragedy during the summer. Not only has the campaign performed exceptionally well in reach, frequency and engagement – As of August 23, there have been 12 less roadway related deaths this summer when compared to this same time last year.
The Golden Spike Awards measure effectiveness regarding research, planning, execution, evaluation and project content. A Golden Spike Finalist is awarded to entries that earn at least 80 out of 100 points; the highest scoring entry earns a Golden Spike. The annual competition is sponsored by the Utah Chapters of the Public Relations Society of America, the International Association of Business Communicator and the Utah Society for Healthcare Communication and Marketing.
Additionally, President and Managing Partner Dave Smith, APR received the Professional of the Year award.
Thank you to our clients for your continued partnership. While we are proud to produce award-winning campaigns, what matters the most is driving meaningful change together.
in category
Blog
tags Agency News, P2 Pride, penna powers, Penna Powers Agency, Penna Powers Life
and
0 comments
. | Written by
Elyse Freeman
Alli –
Alli Blake, our basketball superstar from Westminster, brought her talents over to Penna Powers to work as an associate project manager. Alli is one tough cookie, which is appropriate since her most memorable fortune cookie quote was "toughen up, buttercup!" Of all the famous people in the world, if Alli could only choose one that she wishes to meet, it would without a doubt be Jesus. Her spirit animal? A hyena – they are resilient and the females are boss. If you ever get the chance to meet Alli, you'll learn she is a fierce, determined and hardworking woman that we are lucky to have here at Penna Powers.
Marissa –
Marissa Liu, our newest executive assistant aka our behind-the-scenes organizer, is nothing short of perfect. A motto Marissa lives by and is sure to portray through her actions is "always find time for the things that make you feel happy to be alive." She is the happiest gal around unless you get between her and her diet coke! When she's not busy in the Penna Powers office, you'll likely find her dreaming about traveling to Dubai or Bali, or off somewhere a little bit closer like Southern Utah; (until she gets the opportunity to make her dream vacation a reality).
Alec –
Alec Curtis recently joined us as a truck smart outreach specialist for Zero Fatalities. The best way to describe Alec (as told by Alec) is through his spirit animal, which happens to be an Emperor Penguin, as they are both adorable and majestic. Remember that Klondike Bar commercial song "what would you do-oo-oo for a Klondike Bar?" Well, plan on having that line stuck in your head for the next few hours since it just so happens to be Alec's favorite jingle. When Alec isn't out educating Utah about driving safe around big rigs, he's probably counting his PTO days and planning a trip to his dream location, Italy.
Max –
Max Jensen, a BYU student, joined the Penna Powers family a few months ago as our media intern. If you have been in our office lately, it's likely that you've seen him! He's our only employee that stands tall at 15 feet 3 inches. When talking to Max, chances are you will end up discussing the 1977 restored Toyota Land Cruiser that he hopes to have one day. Max enjoys spending his free time fantasizing about the Bahamas, skiing and shopping at Costco. If you plan on lying to Max, you might want to think twice. Chances are he will call your bluff since he's a firm believer that "the truth is the truth, no matter where you lie."