In this age of social media, we can connect with friends on the other side of the planet in no time at all. Distance is no longer a hindrance, and yet, more people feel detached from society. Amidst the pros and cons of a digital world, brands must learn to adapt and connect in new ways. Although face-to-face interactions are less frequent, the social media age brings many new opportunities for brands to be a part of consumers' lives.
However, like parents trying to fit in with their teenagers, brands sometimes struggle to connect. Unfortunately, we can't help you with any parenting woes today, but we do have a few strategies to help brands genuinely engage with their consumers via social media.
Get to Know Your Consumer
In order to reach a consumer, you need to know who the consumer is. Take the time to find out as much as you can about them. What do they like? What do they not like? What are their purchasing behaviors? By knowing more about your consumer, you'll have a better idea of how to reach them.
Also, understand where your consumers are physically and digitally. Pinpointing a consumer's location provides valuable information such as distance to your business, competitors in their proximity, local hot spots, etc. Find out which platforms your customers engage with most frequently. There are many social platforms available: Facebook, Instagram, Twitter and LinkedIn are some of the most commonly used. These platforms are all unique in audience, tone and messaging. Instagram attracts a younger, visual-focused demographic, whereas LinkedIn attracts professionals in various fields. Your consumers will be more receptive to your messaging when it is on the appropriate platform.
Relevant Communication
Once you have a better grasp on who your customer is, it's all about timing. Keep your content relevant. Posting a Gangnam Style parody might seem funny but is so 2012. Take time to research and stay on top of important topics and trends, particularly those that relate to your brand. By staying relevant, consumers will be more interested in the content you produce. Instead of begging them to pay attention to you, they'll already be right there and tuned in.
Staying relevant also includes optimizing social media posts to go out at the right time. Find out when your target audience is online and post accordingly. This will keep your posts at the top of a consumer's feed so they will be more likely to notice and engage with you.
Quality Content
This may seem like the most obvious strategy, so maybe it's more of a reminder. Though we've all had a day when deadlines are eminent, other projects pop up and social media posts fall to the backburner. However, don't sacrifice quality simply because you need a post now. Take the time needed to produce quality content that your brand can be proud of.
When developing content, consider your intent. A recent Ad Week article suggested a few intents that will help your audience genuinely engage with your brand: in ways that entertain and educate. Entertaining content will capture consumers attention and lead them to engage with your content and even share it with friends. Brainstorm ways your brand can stay true to who you are and entertain the masses.
Consumers are also eager to learn. What expertise do you possess? What nuggets of wisdom can you hand out? Create a small dose of knowledge in a how-to video, tutorial or other form, then include a "learn more" call-to-action. Curious consumers will be excited to learn from you. Quality content will draw consumers in and keep them coming back to your brand.
Apply these strategies to your brand's social media and watch your consumer engagement increase. Learn more by talking to an agency content specialist today.
in category
Blog
tags Advertising, marketing trends, penna powers, SEO
and
0 comments
. | Written by
Katya Wagstaff
Google is the great, wise guru we all turn to for the answer to everything. Google amasses over 79 percent of desktop searches worldwide. This isn't breaking news—the world has relied on it for a number of years. For brands and agencies, this means SEO, or Search Engine Optimization, is essential. However, SEO has been around for a while and people are asking—is it still worth the work?
What is SEO?
Search Engine Optimization is a digital marketing strategy that helps your website and content show up in online search results. When employing SEO strategies your websites and content won't show up as an advertisement, they will be in the regular, or organic, search results. This is important because organic results are 8.5 more likely to be clicked on than paid search results.
There are consumers out there with questions and you have the answers, and like a matchmaker, SEO connects the two of you. SEO will allow you to meet the consumers who actively search for information related to your products and services.
Studies have shown that the first three results from a Google search get 60 percent of traffic. If you are lower on the list, or heaven-forbid, not on the first page, you won't get nearly as much traffic. Invest in SEO to get yourself up where consumers pay attention. If you're a smaller organization and just thought to yourself, "Forget it, this is a money game and there's no way I'll win," think again! Google recognizes that the little guys would have no chance if it was only about paying to be at the top. There are many small steps any brand or organization can take to be successful.
SEO strategy does take some time to set up and monitor (patience, young Padawan) but it's absolutely worth it.
New Trends
Although the overall idea of SEO remains constant, strategies and trends are constantly evolving. For example, keywords are still relevant, but don't stuff your content with too many keywords—search engines are smart enough to recognize this. Instead, keep your audience in mind and continue to write content geared toward them because then you will organically insert the correct amount and type of keywords. Also, keep in mind that SEO is more than just keywords.
Forbes released a list of up-and-coming trends in SEO which include optimizing for voice search (Siri, Alexa, Echo, etc.), updating all links to be secure (https), making sites mobile-friendly and insuring that your sites load quickly.
Forbes also mentions that long-form content seems to be ranking higher on Google. Users tend to look at long-form content for a longer period of time and share it on social media more often. However, the long vs. short content battle is far from over. There are pros and cons for each form. Short-form content is generally better for mobile devices and has a higher potential to go viral. Best practices vary by brand. Consider your brand's personality and goals, then choose the appropriate content forms.
Agencies
If you want to create or update your brand's SEO strategy, there is a lot you can do on your own, provided you put in the time needed. Google also suggests that SEO experts and agencies are helpful because they can review your site content or structure, give technical advice on website development, review your use of JavaScript, manage online business development campaigns and have expertise in specific markets and geographies, among other services.
Start a conversation with your agency today about SEO strategy.
in category
Blog
and
0 comments
. | Written by
Elyse Freeman
At the recent board retreat for the Utah-Southern Idaho Multiple Sclerosis Chapter, Penna Powers' Chairman Emeritus Chuck Penna was honored with the 2017 Impact Award.
The impact award recognizes a member of the MS community who has been instrumental to the success of our community during the previous year.
According to Chapter President Melissa Mathews, Chuck was chosen for his avid participation as a member of the Board of Trustees.
"As a business owner, Chuck has always felt the responsibility to give back to the community through supporting non-profit organizations and causes. Chuck became a member of the board of trustees in 2016 and quickly has made an amazing impact in the lives of those with MS, said Mathews. "His expertise in marketing has improved awareness of MS and the society."
Last year, Chuck led the Penna Powers cycling team in the MS: Harmons Best Dam Bike Race. During the two-day event, the Penna Powers bike team raised $3,800.
Congratulations, Chuck, for receiving the 2017 Impact Award.
in category
Blog
tags Advertising, Agency News, Make the Podcast Bigger, Podcast
and
0 comments
. | Written by
Elyse Freeman
Have you ever wondered how an ad gets made? Are you dying to hear the gory, behind-the-scenes details of the marketing world? You're in luck. We're excited to announce the Penna Powers Make the Podcast Bigger podcast. We'll pull back the curtain on what it's like working in an agency environment and give you an in-depth look at marketing and communications in the modern world.
The podcast will be season-based and contain insights, how-tos and interviews from some of the top experts in the Utah marketing scene. Our agency has been fortunate enough to work with some of the best—ranging from clients to employees—and we'll share their secrets to success on the show.
Our first episode is now live and features KSL Newsradio host Amanda Dickson. Podcast hosts Elyse Freeman and Alex Antonino will grill Amanda on everything from starting a successful career to advice for young professionals who want to drive meaningful change.
Tune in on Thursdays on iTunes and help us Make the Podcast Bigger by rating and reviewing our first episode.
in category
Blog
tags Agency News, digital marketing, Media Planning & Placement, Millennials, native content, Technology, utah advertising
and
0 comments
. | Written by
Nicholas Giustino
Recently our native advertising partner StackAdapt popped into our Salt Lake City office to discuss the latest and greatest features their team is working on. For those of you who are not familiar StackAdapt is the premier native advertising platform based in Toronto, Canada, and no big deal they've been featured in Forbes. Their product offering is led by native articles with video and display products launched in the past year. While we can't discuss everything Michelle and Eli covered during out lunch and learn. We can say StackAdapt has a lot of great features launching this coming quarter and year.
As advertisers look for alternate channels to Facebook and Google we predict a continued shift to native advertising. Native's metrics are stacking up, if not exceeding those of other channels and can track time spent on site (when using StackAdapt) no matter if you are using native articles, video or display.
Is native advertising included in your brand's campaign spend? If not email us at content@pennapowers.com and we can peek at where your audience is online and where you should be.
in category
Blog
tags Advertising, Digital, digital marketing, Social Media, twitter
and
3 comments
. | Written by
Nicholas Giustino
All the attention has been on Facebook and fake news, yet everyone in the room is missing another issue being Twitter's massive bot problem. Estimates are circulating that bots are over 15 percent of active users, something Twitter disputes and pegs at about 5 percent. Whether it is more than 15 percent or less than 5, the point is Twitter's bot problem is out of control and they need to do something about it.
Recently we analyzed a Twitter campaign that utilized the website traffic objective to see how active bots are on Twitter. Within 24 hours, the ads delivered 1,882 clicks and 13.76 percent Click Through Rate (CTR) which seemed very odd to our team. Deep down we all want a 13 percent CTR but immediately knew something was wrong. After further investigating, we immediately saw that majority of impressions served and clicks came from Android devices which raised a huge red flag.
After flagging Android devices as an issue, we considered the languages our ads were delivered. Again, we saw another red flag with a large share of our ads delivering to people who spoke Japanese, Portuguese and Turkish–to name a few.  
Our analysis concluded the rush of clicks over 24 hours could be explained in no other term except for bot fraud. Now this was a very small, target campaign in the U.S. Bots are a worldwide problem for advertisers and governments when used in an inauthentic manner.
You may be asking yourself what can my brand do? Is my agency aware of Twitter's bot problem? Right away you can look at engagements on your tweets. Look at the profiles engaging with your content. Click on profiles to see if they have real photos and information. Bot profiles will have the standard egg profile photo or they won't match the target audience you were seeking. If you work with an agency probe them, asking if they are aware of Twitter bots and what they're doing to combat them.
Staying ahead of ad fraud will continue to be an ongoing battle. Something we hope the major social media channels take very seriously and will develop sophisticated tools to help detect. If you have additional questions regarding Twitter's bot problem or online ad fraud, please email us at content@pennapowers.com
in category
Blog
tags Advertising, digital marketing, Marketing, Media Planning & Placement, Social Media, utah advertising
and
0 comments
. | Written by
Elyse Freeman
We recently attended the 2018 Silicon Slope Tech Summit to learn about the state of tech in Utah. The conference covered everything from gender equality to the entrepreneurial spirit. Here are a few of our favorite takeaways from the conference:
Relevance is key
Facebook's Vice President of Global Communications Caryn Marooney stressed the importance of relevance in content marketing. If you can't get relevance right, it doesn't matter who you are or what you can offer. If you can get relevance dialed in, that's the real ticket.
Don't mistake motion for progress
Another highlight from Marooney's talk centered on progress. She paraphrased Bill Gates' famous quote: "People overestimate what they can do in a year and underestimate what they can do in ten. You need to put a building block on it every day." However, Marooney stressed the importance of staying simple; be intentional in what you create. "The longer you are in business and the more successful you are, the harder people will pull at you to become more complicated," Marooney said.
Your employees deserve transparency
Allbirds CEO attributed the success of his company to the employees. He stressed giving employees access to the greater vision in order for them to make better decisions. If your employees are truly invested in your vision, they are being driven by the right reasons. As soon as money becomes the motivating factor, you're going to be paying a lot and the employees are going to jump ship.
Utah is the place to be
Although shadowed by Silicon Valley, the Silicon Slopes is operating at optimal density right now. Because of its competitive tech culture, Utah's talent pool is creating something magical in the state. Multiple Utah-based CEOs agree that the state and its quality of life are the driving factors for success. "Almost everyone I know who comes here says 'I'll give it a little bit of time.' Utah is a wonderful place that wins you over," said Experticity CEO Tom Stockham.
We loved attending the 2018 Silicon Slope Tech Summit and look forward to the presenters they bring next year.
in category
Blog
tags Advertising, facebook, Marketing, Social Media
and
1 comment
. | Written by
Nicholas Giustino
Facebook recently announced major changes to how your newsfeed will look soon. We all know the days have passed where brands organically pushed out their content to waves of engagement, reaching a large audience. With this new algorithm change, Facebook is taking it one step further by showing you less business and media content, and more personal content from friends and family. Overall, the social media giant expects people to spend less time on the channel, meaning less time on brand content.
You should be asking yourself not if this will affect my brand, but how will it affect it moving forward. Now more than ever brands will have to fight for attention and space on newsfeeds.
Big Changes:
Time spent on site will decrease
Less space for brand posts will lead to less reach, engagements and referrals to one's website. If your brand relies on Facebook to deliver a large portion of its blog and website traffic, you'll want to adjust your strategy on the platform. Consider adding new channels, such as email marketing or a paid platform, in the form of native content placements.
Engagements will decline, becoming more valuable long-term
As people spend less time on Facebook, engagements will naturally decline. Short term this may be bad, but long term the value of an engagement may increase as people spend quality time engaging with content vs. scrolling and liking mindlessly.
Facebook will look at your engagements more closely
You may have already noticed on your personal newsfeed that a friend's post with a healthy conversation is staying at the top of your newsfeed longer than it used to. This is not by accident. Facebook is now looking more closely at engagements beyond likes, shares and comments, examining if a brands content is leading to dialogue.
CPMs (Cost Per 1,000 impressions) will increase
Now that you know Facebook is making more room for friends' and family content, that means more brands will need to utilize paid placements on Facebook more than ever if they want to amplify their content. As demand increases and supply decreases, an increase in CPMs is expected, continuing a trend we've seen over the past few quarters.
What your brand can do moving forward:
Better content
Sure, it's easy to say you'll need to create better content for your brand, but it's true. Moving forward you'll need a well-planned content strategy that aligns your brand by delivering relevant and interesting content to the target audience.
Live organic videos will fare better vs. pre-recorded organic videos
Diversify
Consider adding new channels to your content strategy, such as email marketing or a paid platform like native content placements. Brands also should evaluate how they use existing channels, such as paid search which could be tweaked to drive blog or content views on a website.
Facebook ads
If you've sworn off paid ads or use them sporadically, stand back and reevaluate how you use Facebook products. Brands and marketers have for years treated Facebook as a pay-to-play channel. 2018 will be the year where brands can no longer ignore using Facebook ads to amplify their content. An "Always-On" strategy—whether it's $50 or $5,000 per month—used wisely can still increase brand content reach and desired actions.
The biggest takeaway from this change is that brands no longer have the upper hand they once did on Facebook. It has been a slow decline, but the most recent change will require brands to rethink and shift their strategies. In 2018, influencers will be crowned the kings/queens of content because at the end of the day they are people first, brand second and these algorithm changes will favor them.
in category
Blog
tags best tv of 2017, Digital Media, Penna Powers Favorites, streaming video, Television, tv
and
0 comments
. | Written by
Marc Stryker
We're still in the age of Peak TV, where an endless stream of original programming is coming at us in all directions. And that's before tech behemoths Apple and Facebook have even dipped more than their toes in the TV waters. As it becomes a constant struggle to stay on top of it all, you have to wonder when, not if, the TV bubble will burst. One day Netflix will run out of subscriber money and they'll need to turn to… gasp… advertisers for another revenue stream.
We're all watching so many different TV shows, it's really hard to build a consensus list of top picks. But we did it anyway. You're welcome, blog readers:
This is Us – NBC's tearjerker drama continued to impress us, as did actor Sterling K. Brown at this year's Emmy Awards. He deserved his award (thankfully beating out Kevin Spacey pre-scandal), as he acted the snot out of his half season-long arc with his dying father. People, if you have any humanity left in you, sit down and watch this show.
Mindhunter – Okay, from here on out, it gets a little less warm-hearted as we descend into serial killer psychology with the David Fincher produced (and directed half of the episodes) Mindhunter. Come watch Jonathan Groff (acted and sang the part of evil Kristoff in Frozen) and Holt McCallany do the dirty serial killer profiling work no one in the FBI could imagine doing. Based somewhat loosely on real-life events. Never fun to watch, but always compelling.
Rick & Morty – We're often told that young males aren't watching TV anymore. Rick & Morty is 100% proof that they still are. And it's usually with this show and the rest of Adult Swim (Cartoon Network's after hours block). The show is absolute bonkers, which is understandable when you find out that it's from the demented mind of Dan Harmon (Community and HarmonQuest). And it also generated a McDonalds scandal this year, when fans demanded their Mulan-inspired Szechuan sauce and the restaurant somewhat obliged them.
Game of Thrones – Season 6 was polarizing for many fans, as characters seemed to teleport from place to place with ease and characters did weird and stupid things. Now that GOT writers have surpassed the plot lines of author George R. R. Martin's own books, have they lost the Westeros vibe? Who knows, but it still pleased enough of the staff to get it on our list. Did you check out that fiery loot train battle? And an ice dragon? And aunt/nephew dangerous liaisons?
GLOW – Sure, it's ostensibly about the creation of the Gorgeous Ladies of Wrestling TV show back in the 80's, but that hook is kind of a Trojan Horse for a lot of other ideas about ambition, friendship, women's rights and identity. It could be seen as an older sister 80's nostalgia companion to Netflix's other hit, Stranger Things.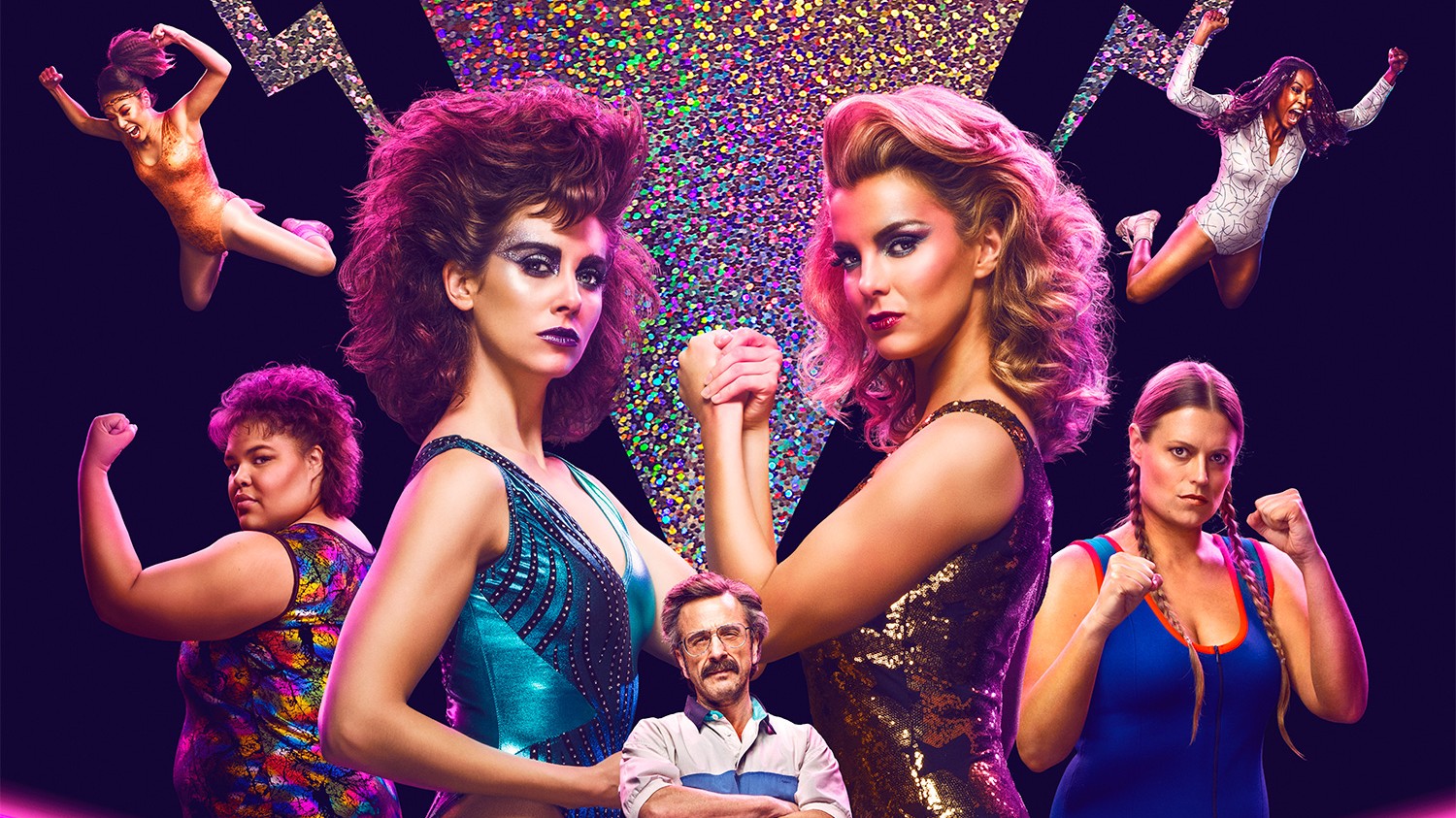 The Handmaid's Tale – The first streaming show to win a best drama Emmy and it happened on Hulu! Netflix was certainly flogging itself after the news and later cursing its collaboration with the disgraced Kevin Spacey and Louis C.K. Based on Margaret Atwood's acclaimed 1985 novel, the show achieved major cultural relevance in the wake of the women's march against President Trump. And then that Harvey Weinstein thing happened…
The Good Place – With the track record producer Michael Shur has (The Office, Parks & Recreation, Brooklyn Nine-Nine), it's no surprise that The Good Place is a great show. We wondered where they would take it after the big twist at the end of Season One, but Season Two is even better. Time for another Jacksonville dance battle.
Legion – Now that Disney purchased Fox Television, (Legion debuted on FX), this 8-episode series superhero/mental illness drama might get the Marvel overhaul, but that would be a mistake. Creator Noah Hawley scored with his adapation of Fargo from film to television and he's doing pretty well with this one. But it was weird and challenging enough to keep most people away with its non-linear storytelling and Audrey Plaza weirdness. Not our creative department though.
Master of None – What's with all these comedians trying to be Woody Allen circa 1979? Well, if they're done in the style that Aziz Ansari brought to his wonderful Master of None, we'll take it. The show has its pretentious moments, but it's also very open and honest and welcoming, giving voice to people who don't normally get character depth on television. Tom Haverford, you've come along way since your days at Entertainment 720.
Stranger Things – The overwhelming consensus as the number one show of 2017, Stranger Things 2 was equally binge-worthy as the first season. More 80's pop culture references, more Demogorgons and more government secrets to unravel – the show probably needed more for Eleven to do than fall in with a bunch of unconvincing X-Men punks, but it still delivered the goods we craved.
Honorable Mentions: The Leftovers, Godless, Insecure, Chicago Med, Bloodline, Marco Polo, Preacher, The Ranch, The Crown, Trial & Error, The Long Road Home, Manhunt: Unabomber, Big Little Lies, 13 Reasons Why, Desus & Mero
Did we miss any of your favorite TV shows? Let us hear it in the comments.
in category
Blog
tags best films 2017, best movies 2017, Penna Powers Favorites
and
0 comments
. | Written by
Marc Stryker
Every year we ask the Penna Powers staff to list the top movies they saw. These are the best movies of 2017 that moved, entertained, challenged or inspired us.
Wonder Woman – You'd be forgiven if you had seen Batman V Superman and seriously worried about the viability of a stand-alone Wonder Woman movie. It had all the makings of a train wreck. While the opening Themyscira scenes had some cringe-worthy CW-level posturing and acting, we quickly got pulled into the story thanks to the incredible charisma of star Gal Gadot and Patty Jenkins's assured direction. Wonder Woman, we believe in you.
The Big Sick – You may know Kumail Nanjiani as Dinesh from Silicon Valley fame, but here he nicely dials it back as a struggling stand-up comic who falls back in love with his ex-girlfriend while she's in a coma. Based on true events and written with his now-wife Emily Gordon, we really dug the story and performances, especially Holly Hunter and Ray Romano as Emily's parents.
John Wick 2 – After Keanu Reeves's titular character avenged the death of his dearly departed dog, he thought he could just lead a quiet civilian life. Of course he's mistaken and soon has to kill lots of bad guys in hyper-stylized and brutal ways.
Thor: Ragnarok – After the dreadful Thor:The Dark World, something had to be done to give life to the God of Thunder. Enter Taika Waititi, director of the fantastic faux vampire documentary What We Do in the Shadows and the quirky brilliant Hunt for the Wilderpeople. Pretty much directing a Thor/Hulk buddy movie, he brings a desperately needed dose of humor and buoyancy before the Marvel Cinematic Universe's dour slide into the Infinity Wars.
Dunkirk – Some movies must be seen in a movie theater – Dunkirk is one of those movies. Director Christopher Nolan out-Nolaned himself once again by delivering a war movie that defied all of the usual conventions associated with the genre, all in under two hours. You're provided absolutely no back story to any of these characters. There's no helpful historical context (although a title card provides some), no explanation of what a "mole" means or preparation for the three timelines depicted. You're dropped into it just like the film's non-descript soldiers. It's basically a horror movie masquerading as a war survival tale. And it's an amazing cinematic experience.
Get Out – Call it a horror film, comedy, social parable or whatever else you want, Get Out managed to capture the zeitgeist of racial anxieties in a Trump-presided America. Comedian Jordan Peele (of Key and Peele fame), nails his directorial debut with a tale that will literally get under your skin. If you went to the theater to see M. Night Shyamalan's creepy Split, you probably saw the Get Out trailer and thought, "What the hell?". No, not hell, just the Sunken Place.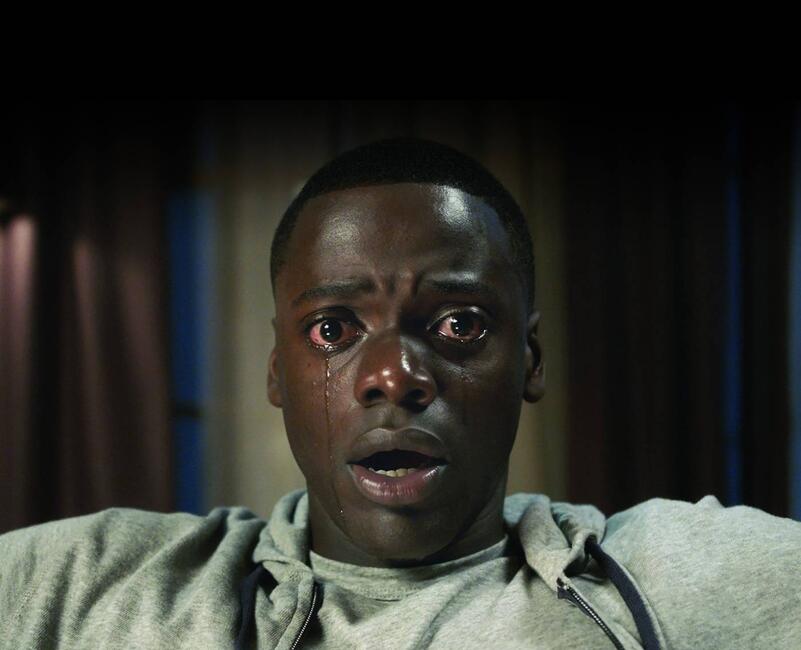 Logan – Marvel got serious with Hugh Jackman's last performance as the iconic Wolverine. It pretty much amounts to a graphically violent 2017 comic-book version of the western Shane-meets-Unforgiven. It has some killer moments, like when a dementia-afflicted Professor X nearly destroys the world, or at least Las Vegas.
Blade Runner 2049 – Not everyone's cup of tea, but neither was the original. Why anyone gave acclaimed director Denis Villaneuve (Sicario, Arrival, Prisoners) this much money to direct a 3-hour sci-fi art film is beyond movie studio logic. But hey, we dug the outcome. If you loved the first film (before it became a cult classic that you were obligated to love), then you probably loved this.
It – Who would've thought a Stephen King-adapted September movie release would become the highest-grossing horror movie of all time? Riding Stephen King's coat tails doesn't always result in box office success (for every Shawshank Redemption, there's a Dreamcatcher), but the marketing team deserves an Oscar for properly seeding the sinister trailer that suddenly got everyone excited about killer clowns. We can now properly bury the horrible TV movie adaptation starring Tim Curry.
You might ask yourself, "That's all very well and good, Penna Powers, but where is The Last Jedi?" Great question! Well, it's not because it went unseen at press time. It's just that there are too many fan boys here who have religiously studied the Jedi scrolls and have declared The Last Jedi a blasphemous mess. Some of us vehemently disagree, but not enough to get the movie on the list. We're terribly sorry – all apologies to director Rian Johnson for having the chutzpah to try something different.
Honorable Mentions: Guardians of the Galaxy Vol. 2, Baby Driver, Call Me By Your Name, Alien: Covenant, A Dog's Purpose, Wonder, Wind River, Logan Lucky, Three Billboards Outside Ebbing, Missouri, The Last Jedi, The Disaster Artist, Girls Trip
So what made your top 10 movie list this year? Please please share in the comments! And check out our past movie lists for 2016, 2015, 2014, 2013, 2012 and 2011.